Food. It is the topic that unites everyone and makes communication easier. Since in Barcelona live people from across the world, it is an exciting theme whenever you are. You always can hear many interesting food traditions of other cultures and people, probably, will be curious to know about yours. Because, you know, we all eat. So, it's a hot topic always. However, this post is not about food traditions. I am going to talk about spots to eat in Barcelona. The places I mentioned below are survivors because, in Barcelona, every day opens many places, but due to a high level of competition, they shut down quickly.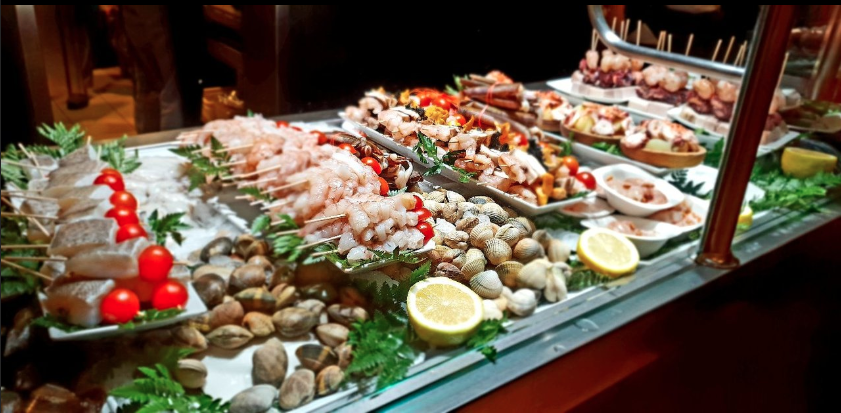 You will want to explore something more about Spanish dishes besides paella. Next comes "tapas" and this word means so many tastes. Initially, the word tapas means a tiny portion of any Spanish dish. The word "tapa" means cap or top, and I've heard a story of the invention of this word. In the South of Spain people, who drink beer in a glass, were bothered by midges that fell into their glasses and waiters came up with an idea to cover glasses with small plates but not to put it empty, they decided to put there some food. It was free, as a compliment. So, tapas can be Spanish omelet "tortilla" with potatoes, cured ham, cheese, olives, fried squid rings, mussels, and other seafood, patatas bravas that look like fried potato wedges from McDonald's. The best thing about it is that you can have many plates of those dishes and taste a little bit of everything and don't get full, so you still have the energy for some activities after dinner.
La Flauta
There is a lovely restaurant in Barcelona where they serve excellent tapas and main courses for an affordable price with good wine and cava. La Flauta has a long history of existence, indicating the quality and trust of locals since this place is always full of locals. It is better to make a reservation before going there. Check out some pictures of their tapas on Tripadvisor.
If you want to get decent food and don't spend much money on it, here is some trick. Many restaurants offer one day in a week as a "happy day" with discounts. Knowing this, you can eat in decent places all week, and even with discounts. It is not about saving money; this is about remembering to be at the right place and the right time and enjoy it.
Bella Italia
Every Monday at Bella Italia, you order two pizzas and pay for only one. It applies only to "take away" orders. This tiny Italian trattoria is held by Italians from Naples, and many Italians in Barcelona approved those pizzas. It is always crowded, and even if you reserved a table, you probably would need to wait for a while to get your table. They have not only the best pizzas in town for only 7.50 euros but also a dish served on a board with Neapolitan Salami, Prosciutto, Meatballs with ragù Sicilian, a small Arancini, Italian Mozzarella, fried pizza with tomato and ricotta, Mozzarella di bufala, Sandwich with Italian ricotta. It is the best choice for a dish to share between 2-3 people.
100 Montaditos
Every Wednesday and Sunday at a very famous bar "100 Montaditos" for 1 euro, you can order around 100 small sandwiches with typical Spanish filling. It is a ridiculous price, but at this place, they bake bread according to a special secret recipe. So, it is worth to try at least one time, and you will always come back because for 1 euro you will get a decent snack and for 3 euros a salad. It is a chain so that you will find them almost at any corner of the city. Seriously, look at this variety of choices!
The Good Burger
If you are craving meat, every Thursday at TGB, you can get two burgers from their menu and pay for only one. They are not too big, so you can easily eat them. Classic burgers have a soft and tasty bun. It is a lovely place, also chain, and they sell there hot dogs and crispy curly potatoes!
So, you can collect this list and go almost every day to different places and try something new. I am sure there are more places with offers on Tuesday, Friday and Saturday. I hope my list will keep expanding, so it will be a "one-week lasting killer deal." Meanwhile, try the ones already existing!