In Barcelona 20.2% of the total resident population is represented by foreign people. For January 1, 2019, one of every five residents has a foreign nationality: 333,516 foreign people of 179 nationalities.
The most numerous nationality is the Italian (36,276 people), then go the Chinese (21,658, second place), Pakistani (20,643, third place), French (16,940, fourth ), the Moroccan (14,418, fifth) and the Colombian (12,290, sixth).
You will need to get the NIE if you are going to stay in Spain for more than 3 months. In my situation, it was because I was an international student in Spain and was going to stay in the country for one year. An acronym for NIE is Número de Identidad de Extranjero or Foreigner Identification Number.
Why is the NIE needed at all?
To open a Spanish bank account
To do an Internship agreement or to work in a Spanish company
To work independently or to have a freelance project in Spain (because of TAXes, of course, we are talking about legal stuff).
To meet or accompany a family member in Spain.
For citizens outside of the European Union, this NIE appears in a VISA stamped in a passport but since they are citizens outside of the EU, they need to get it stamped in a plastic card, which is called the TIE.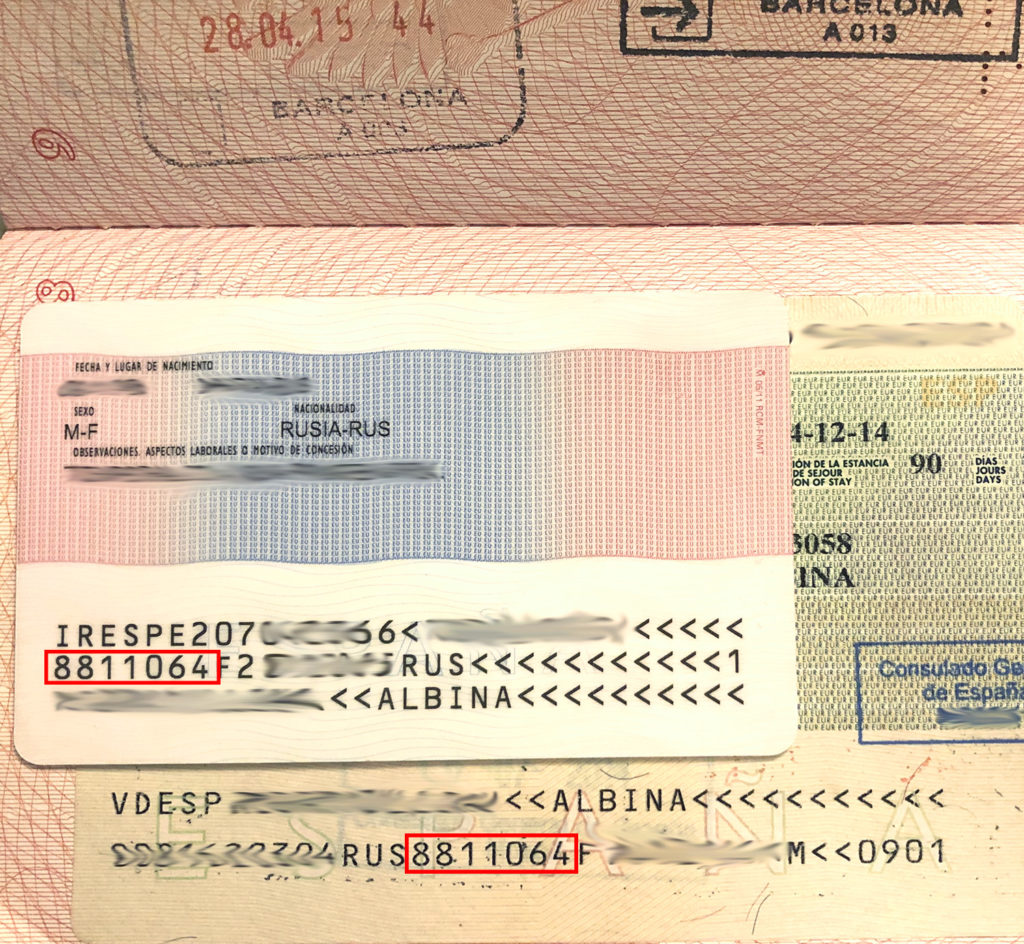 What is the TIE then?
Literally, it is the Foreign Identity Card (or La Tarjeta de Identidad de Extranjero) and represents by itself the physical document that contains details of identification, a picture of the person and the NIE number as well. This will be your authorization for a long stay in Spain, to become a temporary resident. Besides a legal stay in the country, the TIE allows taking advantage of all the nice stuff that the country offers to the residents, for example, to have a library card, free medical services, to work, make an internship agreement and so on. Ok, you get the point.
Steps to get the TIE
I'm going to start with a TIE since it is a bit more complicated to get it. What steps and pain expect you during your way to getting that the TIE with the NIE on it?

Step 1. Apply for an Appointment on this website.
Step 2. Select the province from PROVINCIAS DISPONIBLES: (Barcelona) and choose Certificados y Asignación NIE (no comunitarios).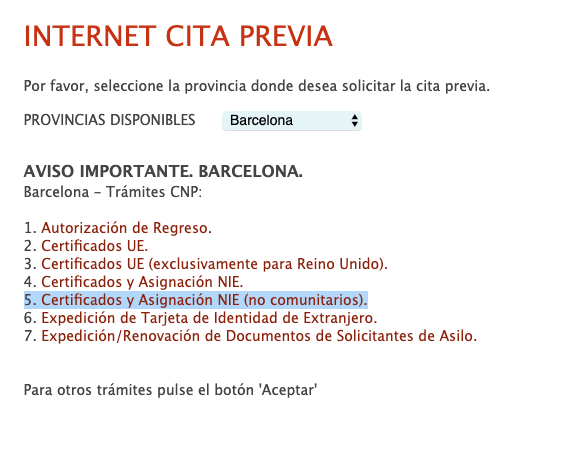 Step 3. After that you will see TRÁMITES DISPONIBLES PARA LA PROVINCIA SELECCIONADA and choose POLICÍA-CERTIFICADOS Y ASIGNACIÓN NIE (NO COMUNITARIOS). Click "Aceptar".
It will redirect you to another page with the whole list of the documents that you will need. You need to find ASIGNACIÓN N.I.E. NO RESIDENTE DESDE ESPAÑA. Then click "Entrar".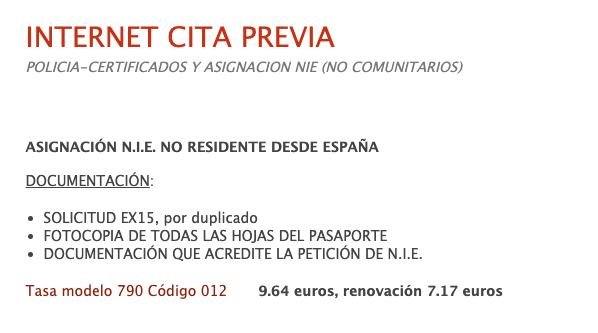 Step 4. Select "Passport" and enter your passport number. Next, write your name and last name in the field "Nombre y Apellidos". Before you click "Aceptar", it will require you to choose pictures. Everything is in Spanish, so you probably will need to translate what exactly it asks you to select.
Step 5. Next, click on Solicitar Cita (Request Appointment). If there are appointments available, the list with the address where you can get your NIE will appear. Important information! The Immigration Office for non-EU citizens is located on Rambla Guipúscoa, 74, Barcelona. So it is recommended that you choose these ones among the list of addresses.


Step 6. Enter your phone number, email address and the reason for your appointment (yours is "Asignación NIE", remember?). Click on "Solicitar".
Step 7. Choose your appointment and click next.
Step 8. You will be redirected to another page where you will need to accept the rules (1) "I agree with the information shown on the screen" and select (2) "I wish to receive an email with the details of my appointment" and click Aceptar ("Confirm").
Confirmation of your appointment will appear on the screen. Don't forget to print it or take a screenshot of it. In theory, the same confirmation should be sent to your email but sometimes, for some reason, the system doesn't send it.
Sometimes it can show you this:

Then try to open the website at 8 am in the morning on Monday. Why? Because a limited amount of appointments will open at that exact moment, so do not delay. If you still have no success in getting the appointment, then you know what to do. NIE lifehack.

After you get your appointment, it's time to collect all the necessary documentation:
Confirmation of the appointment
A copy of your passport (all pages, and don't forget an original version)
Filled out EX-15 Form: Application for Foreign Identity Number. I found an example filled out the form here.
Model form completed and signed (for TIE you should find and select the field:.TIE que documenta la primera concesión de la autorización de residencia temporal, de estancia o para trabajadores transfronterizos.
When you choose the field it will show you the exact amount of TAXes. It's €15.76. Choose also the method of the payment: En efectivo.
Certificate of your empadronamiento.
But this is not over yet, depending on your situation, you will need some additional papers.
For students: Proof of enrolment in a Spanish university and the description of the University program you are going to study, European Health Card (private medical insurance) and proof of sufficient economic resources, which is usually a certificate that you have about 7000€ in a bank account. Erasmus students simply have to provide documentation that proves their participation in the program.
To work in a Spanish business: Employment contract, any document that certifies the registration of the Spanish Social Security as a worker.
To work freelance in Spain: Registration in the Economic Activities Census or Registration in the Commercial Register or Document that accredits the inscription in the Spanish Social Security as an autonomous worker.
Meet or accompany a family member in Spain: Proof of family ties, evidence that the family member works in Spain and proof of sufficient financial resources.
After arriving at your appointment, you will get a number and patiently wait until you will be attended. Then present your documents, they will take your fingerprint and send you to any bank to pay taxes under model 790_012, the one where you clicked on the field TIE. Basically, you will pay for the plastic card that will be issued. Keep in mind that the banks in Spain are open only till 2 pm, so hopefully, you will be able to pay the same day. After 40 calendar days you will get your TIE/NIE card with your fingerprints on it. Congrats! Now you are a temporary resident of Spain.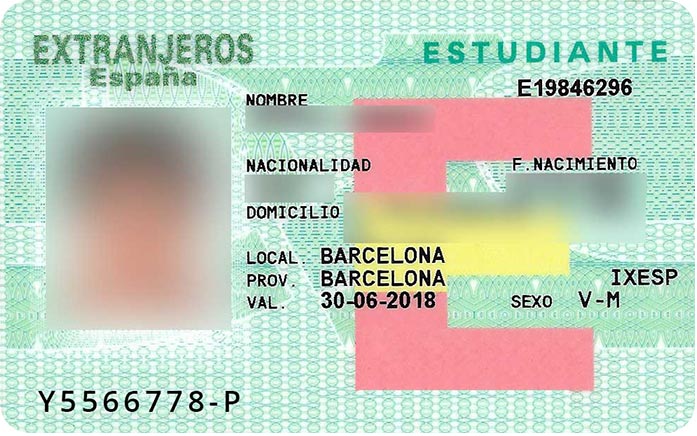 Part 2. NIE for citizens of the EU

If you are a citizen of the EU the way to get the NIE is much easier for you, and sometimes the NIE will be represented by a piece of paper A4 with that number and some info, so you will pay only for this paper and will get the desired document the same day. Just don't forget to prepare all the documentation and go through those steps, besides the step 2.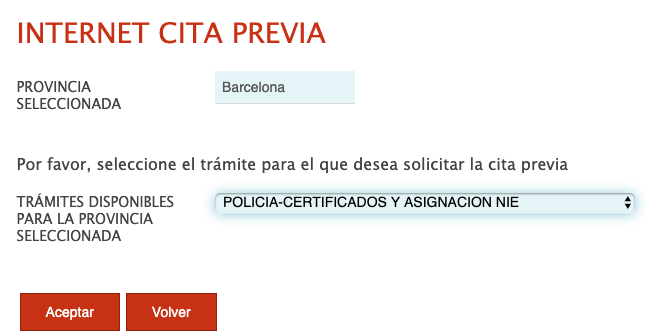 In your case, you should choose Certificados UE instead of CERTIFICADOS Y ASIGNACIÓN NIE (NO COMUNITARIOS). After that, the same steps as for the non-EU citizens, and when you get to the step with choosing the office, for you it doesn't matter which one you select. It may be any office from this list, from SEDE 1 or from SEDE 2 section. I mean not only the police office on Rambla Guipúscoa, 74. Moreover, you can go to the police station in Badalona which is located on Avd. Joan XXII, 2, 08930 – Sant Adria del Besós.

You can also find some tips and advice to go to another city and get the NIE there, but lately, the police offices in the small cities close to Barcelona refuse to do work for people from the capital. As an excuse to reject your request they can ask you if you have the empadronamiento in the same city. So if you don't have it, this strategy will not work out.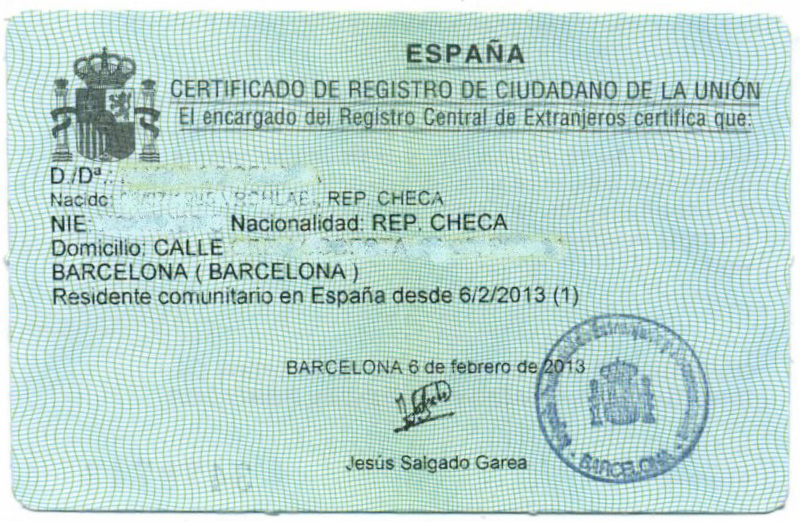 Well, if you are going to start this process, may the force (and lots of patience) be with you. Good luck!